A must-read for everyone who likes Sarah J. Maas's writing, but don't expect too much.
For fans of: Snow Like Ashes - Sarah Raasch.
Publication: 2017
ISBN: 1408857901
Pages: 699
Goodreads
Blurb: Feyre has returned to the Spring Court, determined to gather information on Tamlin's maneuverings and the invading king threatening to bring Prythian to its knees. But to do so she must play a deadly game of deceit—and one slip may spell doom not only for Feyre, but for her world as well. As war bears down upon them all, Feyre must decide who to trust amongst the dazzling and lethal High Lords—and hunt for allies in unexpected places.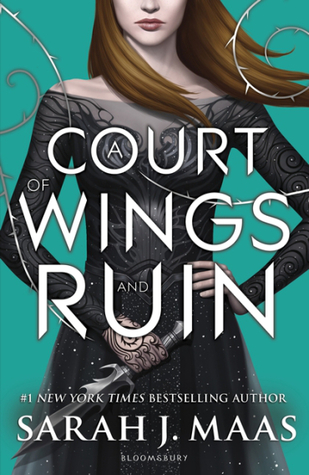 Opinion
Cover: Of all the covers of this series this is by far my favourite. It was actually artist Charlie Bowater who designed this dress for one of her marvellous fanart pieces. Seriously, check out her art, it's divine!
Content: I quite enjoyed the first book in this series, A Court of Thorns and Roses, but I wasn't the biggest fan of it. The second book, A Court of Mist and Fury, blew me away. I won't say too much about it in this review, but let me just tell you here that it instantly became one of my most favourite books. Ever.
So of course, when I finally had A Court of Wings and Ruin in my hands, I was expecting my-most-favourite-book-ever-part-2. Meh.
It was equally exciting as the second book, but somehow not as surprising. Many things seemed to be a coincidence and sometimes it was just too easy for the main characters. Not that I wanted them to suffer, but I kind of expected that. I actually had the same problem with Empire of Storms, the fifth book in the Throne of Glass series, by the same author.
There were so many elements that were supposed to produce drama, but then they came along like something from a bad soap opera. Sarah, you've done better jobs before.
The worldbuilding feels sloppy at some points, there are still things that we haven't learned yet. The author used many aspects of Celtic and Slavic Mythology and while I think that it's absolutely okay to let yourself inspire by other mythologies or cultures, copying from them is just lazy.
Then there's all that war and battle stuff going on. I know, I know. We're talking about High Fantasy here. Sooner or later there just has to be a war and here the signs have been inevitable. But all the time while reading I wondered if there wouldn't have been a non-brutal way of solving this problem. Some sort of magic that wouldn't have cost so many lives, maybe. Romanticising violence isn't okay and that's what cost this book a button in my rating. The other half one is for sloppy wordbuilding.
The quests that Feyre and her companions had to go through were exciting though. I'd really like to see more of it and fortunately we'll get more stories from Prythian, just not from Feyre's POV.
The feminist approach in this book was awesome! Please, dear writers (especially YA-writers), write more characters like this!
Writig Style: Flawless as always! Maas really has her own special way of telling a story.
I'm personally not the biggest fan of first person narrators, but here it really works. It's probably good that she didn't write from too many POVs, because otherwise it probably would have been twice as long.
My conclusion:

Despite my very critical review, I really liked reading this book. Even if you're not certain whether you should read it: Just do it!
My rating: 3,5/5 Buttons