A book like a dream.
For fans of
:
Dream A Little Dream
- Kerstin Gier,
Daughter of Smoke and Bone
- Laini Taylor,
Die Sturmkönige
- Kai Meyer
Publication
: 2017
ISBN
: 1444788973
Pages
: 544
Goodreads
Blurb
:
The dream chooses the dreamer, not the other way around - and Lazlo Strange, war orphan and junior librarian, has always feared that his dream chose poorly. Since he was five years old he's been obsessed with the mythic lost city of Weep, but it would take someone bolder than he to cross half the world in search of it. Then a stunning opportunity presents itself, in the person of a hero called the Godslayer and a band of legendary warriors, and he has to seize his chance to lose his dream forever.

What happened in Weep two hundred years ago to cut it off from the rest of the world? What exactly did the Godslayer slay that went by the name of god? And what is the mysterious problem he now seeks help in solving?

The answers await in Weep, but so do more mysteries - including the blue-skinned goddess who appears in Lazlo's dreams. How did he dream her before he knew she existed? And if all the gods are dead, why does she seem so real?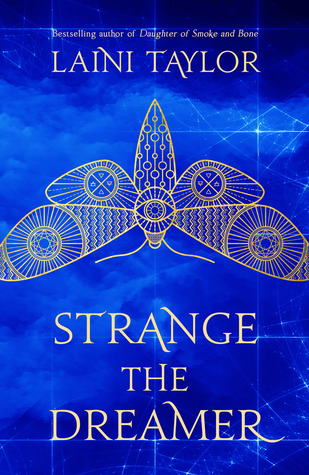 Opinion
Cover
: This is one of my favourite covers ever. And trust me, you'd have to see it in real life. The background looks almost like satin, as if they have put a night sky on paper. Then there's the Gold letterig and this incredible moth which go together so well.
Content
:
Daughter of Smoke and Bone
is one of my favourite books ever and so I had high expectations on Laini Taylors new novel. I wasn't disappointed.
The world the story is set in has some sort of orientalic touch, without commiting cultural appropriation (at least in my eyes - tell me if I'm wrong). Thanks to Laini Taylors writing style (more below) I saw it all in front of me. It was almost as if I was actually there, as if I could feel the heat on my skin.
Lazlo Strange is definitely a very unusual hero. He's not Mr. Perfect, like so many guys in this genre, and that's what I always wanted to read about. Usually they are skilled fighters and aren't afraid of anything. But he loves books more than anything and keeps to himelf (reminds me of myself).
There are, of course, many more unique characters, but I don't want to reveal too much about them here. Let me just tell you that they are all very different and that it's not always clear who are the good and the bad ones. Oh, and there are
very
bad ones.
Writing Style
: Laini Taylor paints pictures with her words. That's something you can hardly copy. It's incredibly poetic and I enjoyed every second of it.
There are fictional languages, but fortunately the author doesn't throw too much of them into the text.
Be aware: If you come looking for an action-packed, fast-paced novel, this is not it. You have to read it for the pure beauty of words. Well, it's not like there's no story at all. On the contrary, there are so many unique things in there and you can never guess where the story will lead you. This is what I love about Laini Taylors books so much.
My conclusion
: That ending killed me. Give me book two already!
(ugly sobbing while I wait for next year)
My rating
: 5/5 Buttons